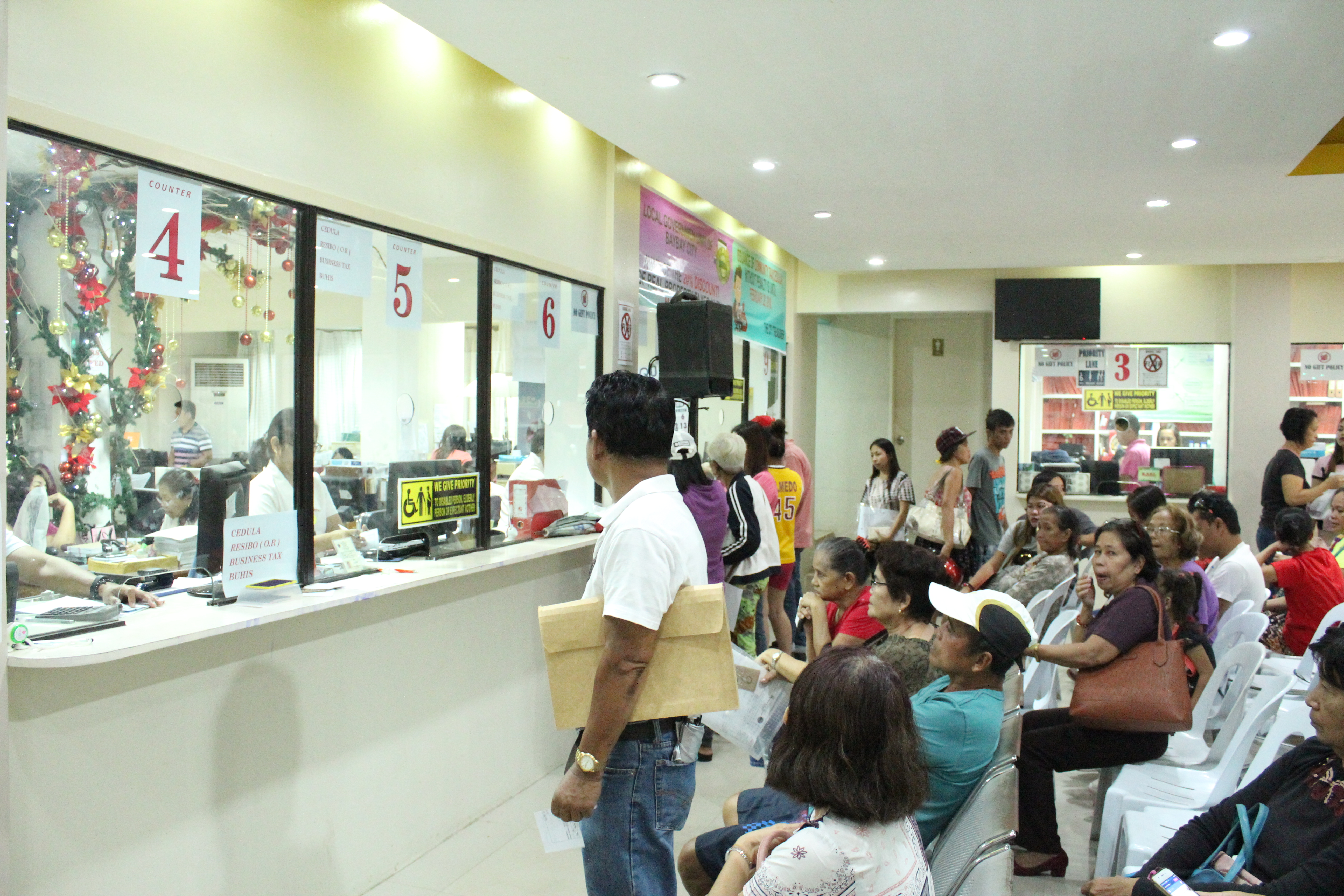 Baybayanons sat in front of the City Treasurer's Office (CTO) while waiting for their turn to be entertained by the concerned staff (Photo Credits: Jason Ybañez, City Information Office Staff)
20 Percent% Discount on RPT for Prompt Tax Payers
The City of Baybay is now offering 20% discount on Real Property Taxes (RPT) but only for prompt and non-delinquent tax payers.
According to City Treasurer, Mrs. Evelyn Pernites-Relente the city offers early payment discount to encourage more people to pay their RPT on time and for them to avoid the corresponding penalty for paying beyond March 31, 2018.
Mrs. Relente explained that the penalty for delinquent tax payers is 2% per month.  Thus, if a taxpayer will pay his/her RPT on April 1, 2018, the penalty of 8% will automatically be added to the taxpayer's bill.
However, the maximum allowable penalty for delinquent RPT taxpayers is only 72% because according to Mrs. Relente the law mandates that the penalty for RPT shall not exceed 36 months.
It could be recalled that the first-ever Local Revenue Code of the City of Baybay was approved in 1991. Since then, the Baybayanons enjoyed a very low RPT.  "In the old Local Revenue Code, the assessed value of the land, building, equipment or machineries is multiplied by 1% plus another 1% for the Special Educational Fund (SEF) for the Local School Board," explained Mrs. Relente.
She added, however, that due to the constant prodding of the Department of Finance (DOF), the Sangguniang Panlungsod enacted the Baybay City Revenue Code of 2017.  And after several finance committee meetings and public hearing, the same was approved on May 9, 2017 and was implemented starting August 1, 2017.
Under the new tax code, the assessed value will be multiplied by 1.5% of the basic plus another 1% for the SEF.
In relation to this, Mrs. Relente calls upon the RPT taxpayers to take advantage of the 20% discount that the Local Government Unit of the City of Baybay is offering until March 31 of this year.
To facilitate the paying of either the real property tax, community tax certificate and the like, the City Treasurer's Office placed this registration area to ensure that the first come, first served basis is properly implemented. (Photo Credits: Jason Ybañez, City Information Staff)
It could be recalled that as early as January 2, 2018 the City Treasurer's Office set-up waiting areas for the Baybayanons who will pay their Real Property Tax (RPT), community tax certificate (CTC), and fees and charges this year.
They also set-up a priority number registration area to ensure that the first come, first served policy is implemented without fear or favor. (Marissa Miguel Cano, City Information Office III, with reports from JasonYbañez, CIO Staff)
###