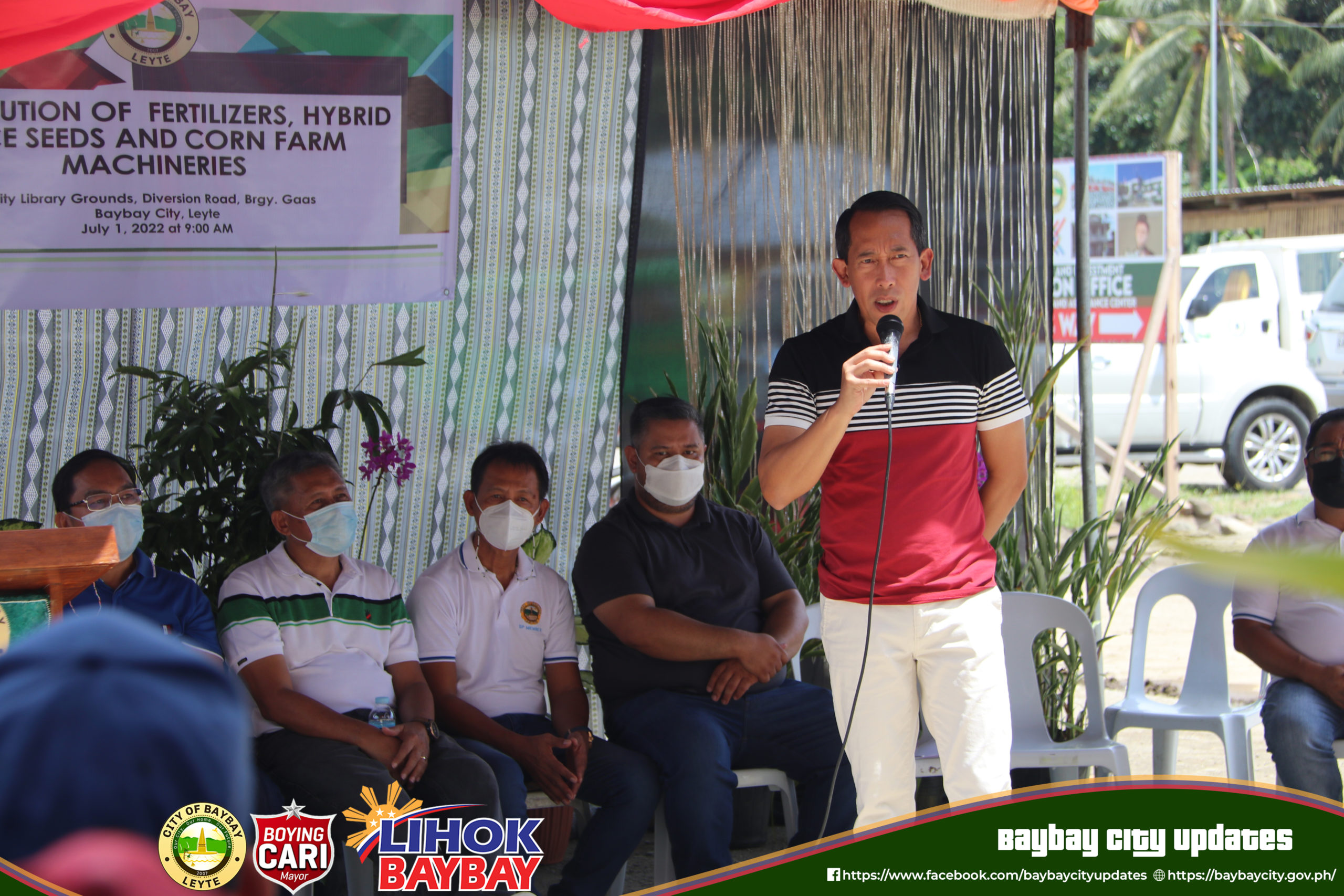 "Ako manghinaot nga inyong reviewhon ang tanan nga nahasulat sa  Annual Investment Plan (AIP) karong tuiga kay kinahanglan jud nga ma-implementar ang tanan nga nakasulat niana nga libro nga gihatag kaninyo. Ato nang gipatigayon tanan diha sa AIP ug naa na 'say gigahin nga pondo. Ang inyo nalang buhaton mao ang pagbantay ug ang pag-follow-up nga mogawas ang pondo ug muabot ang proyekto sa inyong barangay."
Mao kini ang gipahinumdom ni Baybay City Mayor Hon. Jose Carlos L. Cari ngadto sa mga Punong Barangay 'ning dakbayan sa Baybay atol sa gipahigayon nga Distribution of Fertilizers, Hybrid Rice Seeds and Corn Farm Machinery didto sa City Library Building Grounds sa Barangay Gaas 'ning dakbayan, dili pa lang dugay.
Kahinumdoman nga pinaagi sa tabang sa City Planning and Development Office (CPDO) 'ning dakbayan, matag tuig nga naghimo og Barangay Development and Investment Plan (BDIP) ang matag barangay dinhi sa dakbayan sa Baybay diin ilang gibutang ang ilang giila nga mga priority projects.  Apan gumikan kay limitado man ang Internal Revenue Allotment (IRA) sa mga barangay, ug kasagaran nga dako nga pondo ang gikinahanglan alang sa katumanan sa ilang gipangandoy nga mga proyekto, naghimo og resolution ang hingtungdan nga mga barangay aron mahilakip kini sa Annual Investment Plan (AIP) sa dakbayan.
Ubos sa pagdumala ni Mayor Cari, gi-download ang pondo alang sa mga barangay projects aron sila na mismo ang mag-implement niini.  Apan aron pagseguro nga nagsunod sila sa balaod, adunay Project Monitoring Team (PMT) nga nagsusi sa ilang project implementation. Gibisita usab sila, matag karon ug unya, ni City Accountant, Mr. Jay Austero aron pagseguro nga nasunod gayud ang gi-aprobahan nga  Program of Work.
Nunot niini, gi-awhag ni Mayor Cari ang hingtungdan nga mga Punong Barangay nga susihon ang ilang priority project nga nahilakip sa 2022 AIP sa dakbayan sa Baybay, "I-call ang attention ni Mora Abarquez kon kabahin sa agrikultura, i-call ang attention ni Engr. Ranulfo Tagolgol sa City Engineering Office kon kabahin sa infrastructure, ug kang Manuel Icon Donaire kon kabahin sa social services ug mga livelihood."
Gipasalamatan usab niya si City Vice Mayor Atty. Ernesto Butawan ug ang tibuok nga Konseho sa dakbayan sa Baybay gumikan sa ilang pagsuporta sa iyang mga proposed programs, projects and activities alang sa mga mag-uuma ug mananagat 'ning dakbayan.
Angayang masayran nga mitambong sa gipahigayon nga Distribution of Fertilizers, Hybrid Rice Seeds and Corn Farm Machinery silang Vice Mayor Atty. Ernesto M. Butawan, Sangguniang Panlungsod Members Hon. Romulo Alcala, Hon. Filemon Avila, Hon. Ramon Ronald Veloso, Hon. Dominic Junie Murillo and Hon. Jorge Rebucas, representante sa Department of Agriculture Regional Office 8 (DA-RFO 8) Mr. Fabian Aldiano, City Agriculturist Ms. Mora Abarquez, mga Punong Barangays ug mga Presidente sa nagkadaiyang mga farmers organizations 'ning dakbayan.
###