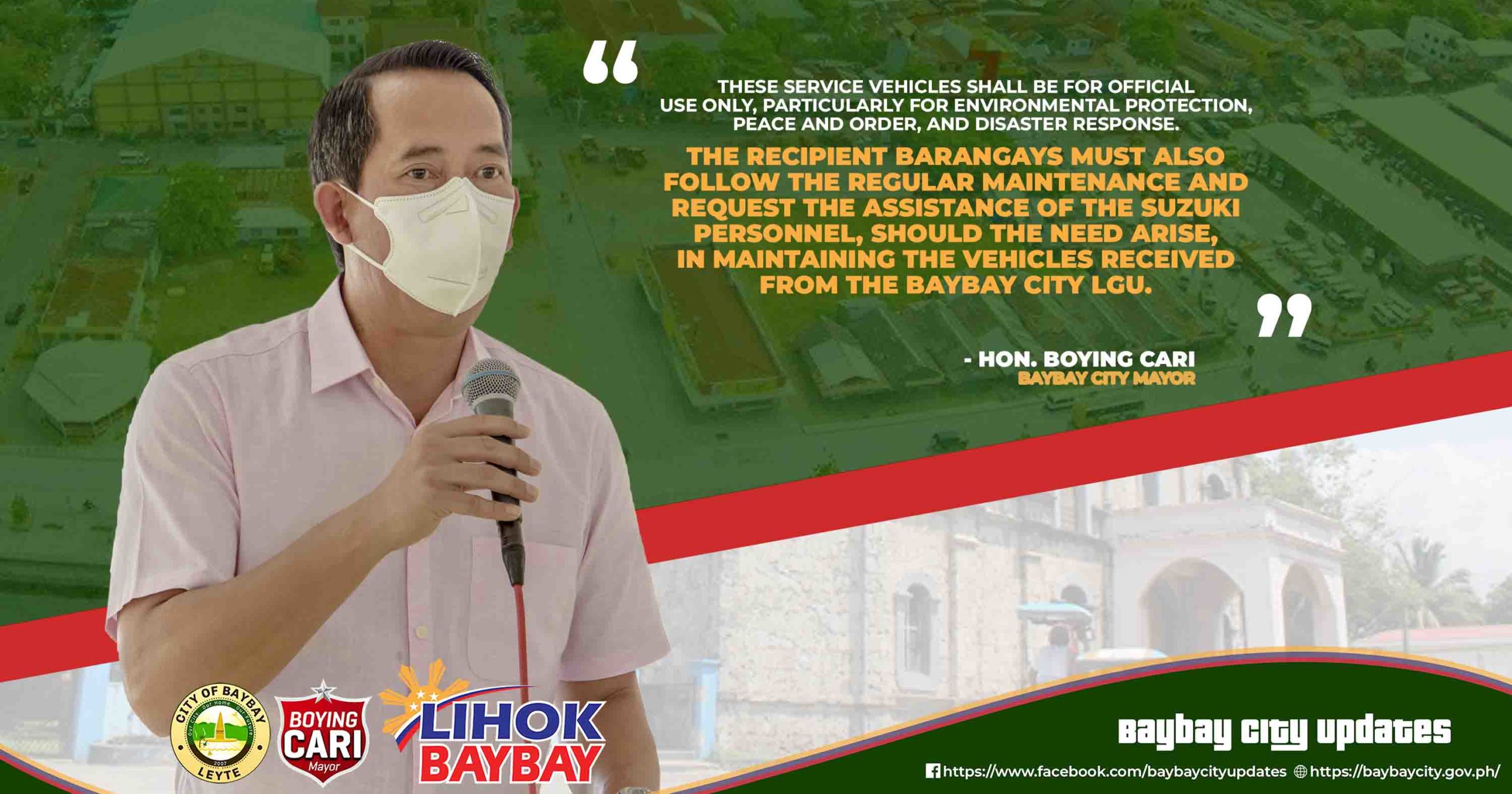 The City of Baybay, thru Baybay City Mayor  Hon. Jose Carlos L. Cari distributed today (August 10, 2022) six (6) service vehicles to the Barangay Local Government Units of Barangay Bunga, Barangay Bubon, Barangay Punta, Barangay Candadam, Barangay Patag, and Barangay Kaombonggan.
Mayor Cari said that these service vehicles shall be for official use only, particularly for environmental protection, peace and order and disaster response. He added that the recipient barangays must follow the regular maintenance of the said vehicles to maximize its service. He added that they must ask for the assistance of the Suzuki personnel in maintaining the vehicles as part of their after-sales service.
It could be recalled that in June 28, 2022, 19 barangays of the City of Baybay also received service vehicles from the Baybay City LGU. According to Mayor Cari that the recipient barangays during that time were interior barangays to facilitate their mobility, especially in times of disaster and emregency.
The Explosive Ordnance Disposal (EOD) as well as the   Barangay Auxiliary Network of Information for Humanitarian Assistance (BAYANIHAN) Workers Association were also given one (1) service vehicle each.
Mayor Cari thanked the Sangguniang Panlungsod (SP) of the City of Baybay, headed by Vice Mayor Atty. Ernesto M. Butawan for appropriating the funds for the procurement of the said service vehicles.
In one (1) of the City Development Council (CDC) meetings in the City of Baybay, Mayor Cari said that those barangays who will put up the counterpart of one hundred thousand pesos (P100,000.00) will be given the service vehicle. During the turnover of the said service vehicles in June 28, 2022, however, he said that the concerned barangays need not give counterpart to the cost of the vehicle and instead shall be responsible for the fuel and the maintenance of the service vehicle which they received from the Baybay City LGU. (Marissa M. Cano, City Information Officer, Baybay City, Leyte)
###