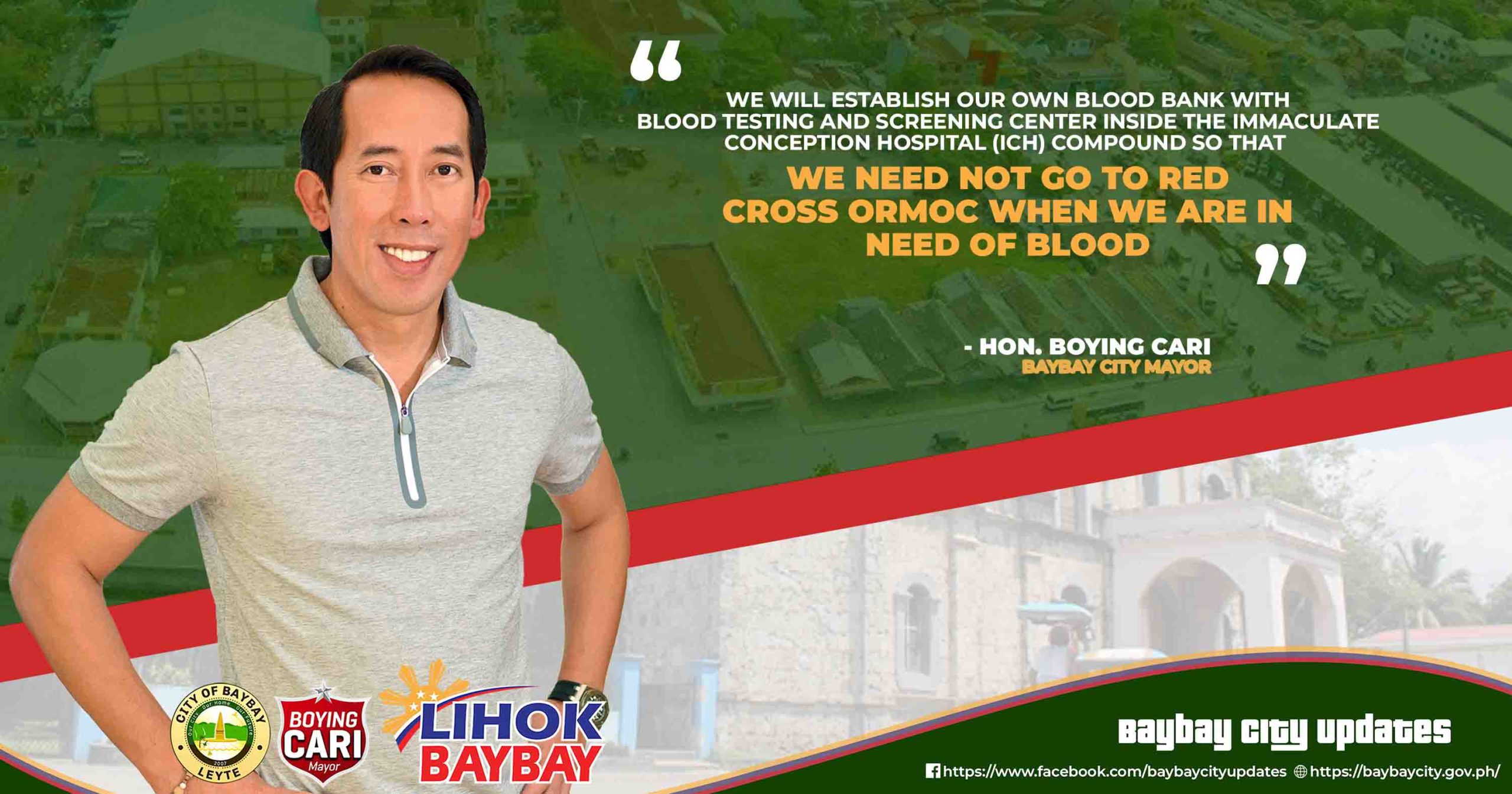 Gipresentar ni Baybay City Mayor Hon. Jose Carlos L. Cari atol sa City Development Council (CDC) Meeting kaniadtong Enero 19, 2022 ang mga priority projects sa dakbayan sa Baybay nga wala pay tataw nga pondo ug lakip niini ang Blood Bank with additional functions (testing and screening).
Matud pa ni Mayor Cari nga kinahanglan ilakip kini sa Annual Investment Program (AIP) sa dakbayan sa Baybay, ug i-certify sa CDC nga urgent program kini nga programa sa dakbayan aron kon adunay makita nga pondo gikan sa national government, sa provincial government, o sa panudlanan mismo sa Lokal nga Kagamhanan sa dakbayan sa Baybay, ready na ang mga dokumento nga gikinahanglan alang sa implementasyon niini sama sa program of work ug uban pa.
Angayang masayran nga dugay nang nagplano ang dakbayan sa Baybay nga magtukod og kaugalingon nga Blood Bank aron dili na kinahanglan nga moadto pa sa Red Cross Ormoc ang mga Baybayanon ug molinya og dugay didto aron lang makakuha og dugo nga ilang gikinahanglan. Apan gumikan kay aduna may mga pamalaod ang Department of Health (DOH), nga adunay kalambigitan sa pagtukod og Blood Bank, padayon pa kining gipangitaan og pamaagi karon sa Baybay City Local Blood Council (BCLBC).
Matud pa ni City Health Officer II Dr. Norberto P. Oja nga segun pa sa DOH, kinahanglan nga anaa sulod sa ospital ang Blood Bank. Samtang, atol sa gipahigayon nga  BCLBC Meeting kagahapon (Agosto 16, 2022), gipresentar na ni Territory Manager sa Zeolite Diagnostics Supplies, Mr. Lester Gonzaga ang iyang mga proposed equipment alang sa nahisgotang Blood Bank.  Hinuon, matud pa sa BCLBC nga kinahanglan nga lakip na sa iyang presentation ang presyo sa matag usa nga equipment aron magiyahan ang Baybay City LGU kon pila gayud ang gikinahanglan nga pondo alang sa pagpalit niini.
Sa iyang kabahin nagkanayon si Sangguniang Panlungsod Member ug Chair sa SP Committee on Health, Dr. Fulton Ike Arradaza nga mas maayo kon madali ang pagtukod sa nahisgotang Blood Bank aron aduna na unya'y kabutangan sa dugo sa mga Baybayanon nga mo-apil sa mga Bloodletting Activity nga pasiugdahan sa BCLBC. Pinaagi niini, dili na madala pa sa laing lugar ang nahisgotang dugo ug magamit gilayon kini sa mga Baybayanon nga magkinahanglan niini. (Marissa M. Cano, City Information Officer, Baybay City, Leyte)
###