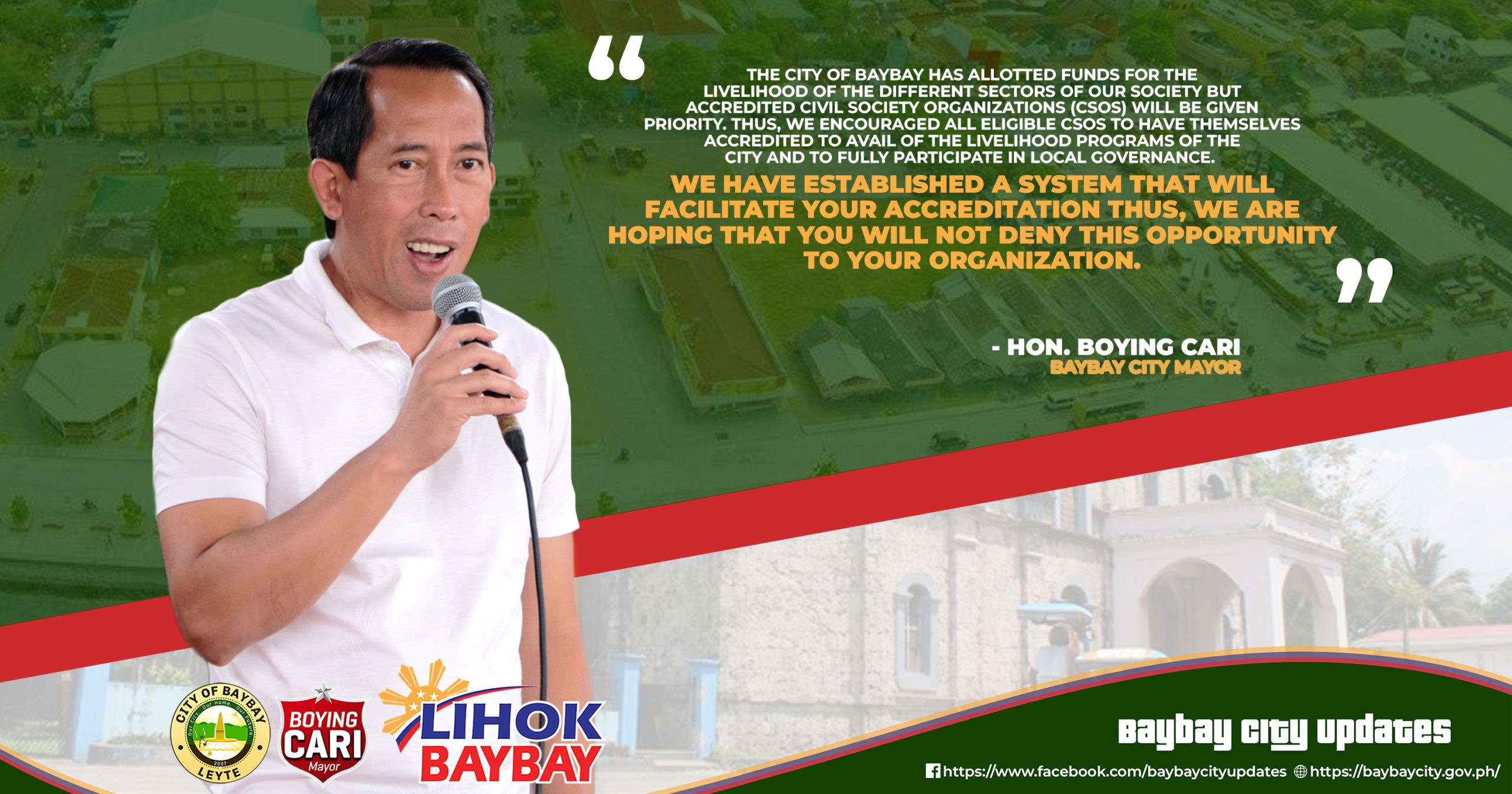 Otsenta y otso (88) ka mga rehistrado nga mga Civil Society Organizations (CSOs) sa dakbayan sa Baybay ang nagtigom karong adlawa (Agosto 30, 2022) sa Baybay City Gym. Kini aron hisgotan ang kabahin sa CSO accreditation.
Atol sa iyang pagpakigpukong gipasabot ni Sangguniang Panlungsod (SP) Member Hon. Ramon Ronald Veloso nga ugmang adlawa (Agosto 31, 2022) unta ang katapusang adlaw sa pagpa-accredit sa mga CSOs aron mahilakip unya sila sa tukuron nga People's Council sunod bulan.
Apan gumikan kay aduna may mga kakulangan ang accreditation documents nga gisumite sa pipila ka mga CSOs ngadto sa ilang buhatan hinungdan nga nagka-uyon silang SP Members Hon. Veloso, Hon. Romulo Alcala, ug Hon. Dominic Junie Murillo nga tagsa-tagsaon sa pag-interview ang mga Presidente sa nahisgotang mga CSOs.
Atol sa iyang pagpakigpulong, gibutyag ni Hon. Alcala ang pamaagi sa accreditation nga gipatuman sa Committee on Cooperative, Peoples Organization, Non-Government Organization (NGOs) and Associations sa Sanggunaing Panlungsod (SP) 'ning dakbayan. Samtang, gibatbat usab ni Ms. Linda Odicta, Multi-sectoral Sector In-Charge sa City Agriculkture Office (CAO) 'ning dakbayan ang mga requirements for accreditation segun sa guidelines nga giluwatan sa Department of the Interior and Local Government (DILG).
Sa iyang kabahin, gipasabot ni Hon. Dominic Murillo nga importante nga ma-accredit ang usa ka CSO aron mahimo silang miyembro sa City Development Council (CDC) ug mahingpit ang ilang pagpakiglambigit sa local governance, ilabi na gayud sa pag-approve sa Annual Investment Program (AIP) sa Lokal nga Kagamhanan, ingon man usab sa pag-implementar na niini ngadto sa ilang tagsa-tagsa ka barangay. Gawas pa niini, aduna 'say balaod nga naglatid sa gidaghanon sa mga CSOs nga angayan nga mahimong miyembro sa CDC sa matag siyudad o munisipyo. (Marissa M. Cano, City Information Officer, Baybay City, Leyte)
###