Adunay daghang klase sa hustisya apan dinhi sa dakbayan sa Baybay, giisip nga hustisya ang pagpabilin sa kalinaw, kahapsay ug kalambo-an. Justice is freedom from poverty.
Mao kini ang gipalanog ni City Administrator Atty. Florante Cayunda Jr. atol sa 16th Commemoration of the Inopacan Massacre Discovery and Exhumation nga gipahigayon sa Veteran's Plaza kagahapon (Agosto 28, 2022).
Nunot niini, nagkanayon si City Vice Mayor Atty. Ernesto M. Butawan nga sukad niadto hangtud karon, naningkamot ang gobyerno nga dili na mobalik ang mga problema nga nahi-aguman sa mga survivors niadtong panahona. "Gani, sa paglingkod ni Mayor Boying (Hon. Jose Carlos L. Cari) kaniadtong 2019, unang higayon nga atong gihisgotan ang mga programa nga pwede natong ihatag sa mga pamilya sa nahibilin sa mga biktima sa Inopacan Massacre.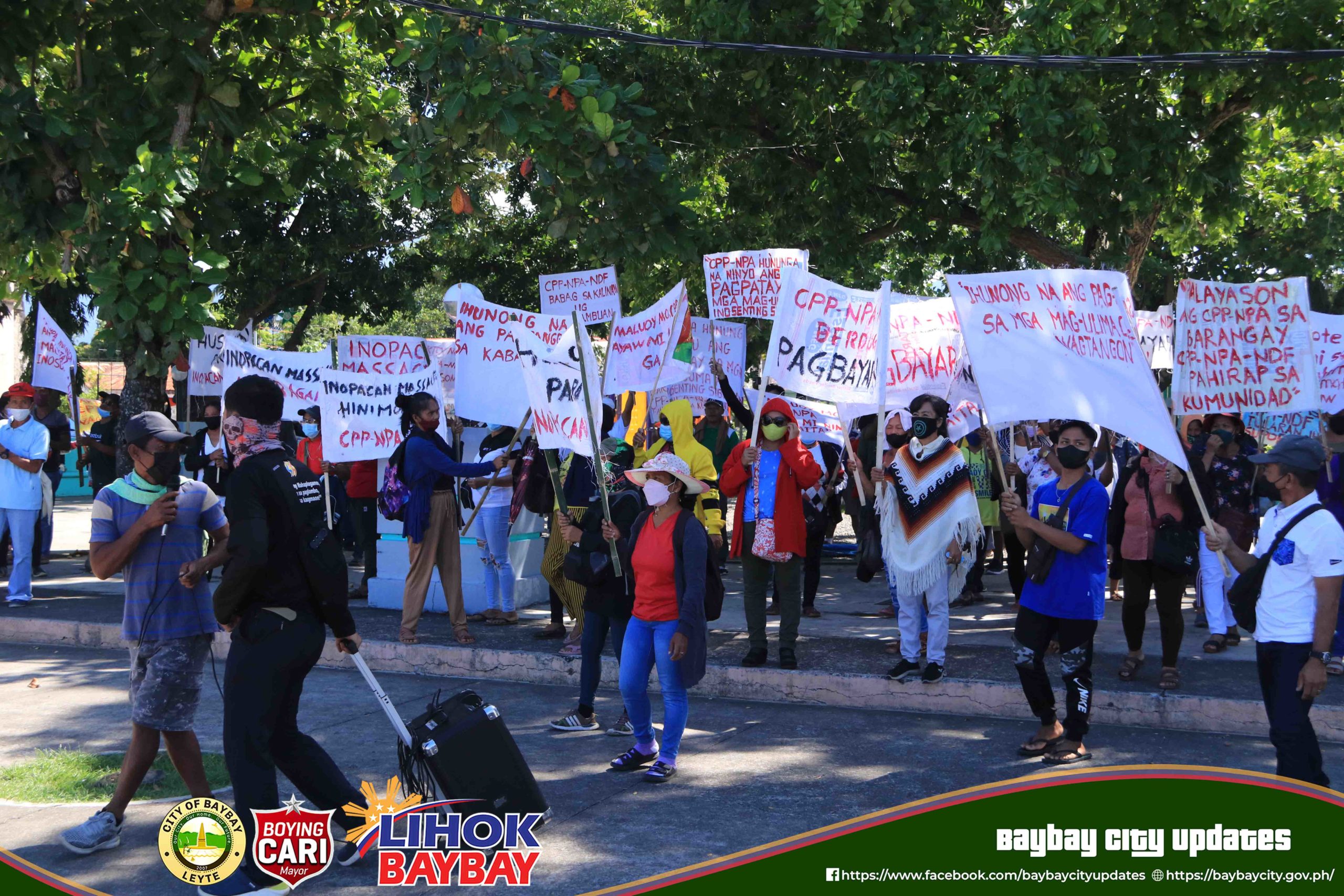 "Kini tungod kay sukad niadtong nakaplagan kining mga bukog sa atong mga minahal sa kinabuhi daghan ang mga programa nga gihatag sa mga rebel returnees (RRs). Ug nakita namo ni Mayor Boying nga kon pwedeng tagaan og programa ang mga RRs, nganong dili man pud nato tagaan ang pamilya sa mga biktima. Mao nga ang atong konseho migahin og pondo para sa livelihood program sa mga pamilya nga apektado kay ang ilang mga minahal sa kinabuhi apil man niadtong na-massacre," dugang pa ni Vice Mayor Butawan.
Nunot niini, sa ngalan sa mga pamilya sa mga biktima sa Inopacan Massacre, mapasalamaton silang Camela Amadora sa Barangay Ampihanon ug Marcelina Tronoyba sa Barangay Monterico gumikan sa gihatag nga suporta kanila dili lang sa mga kasundaluhan kon dili lakip na usab sa Lokal nga Kagamhanan sa dakbayan sa Baybay pinaagi sa livelihood package nga ilang nadawat.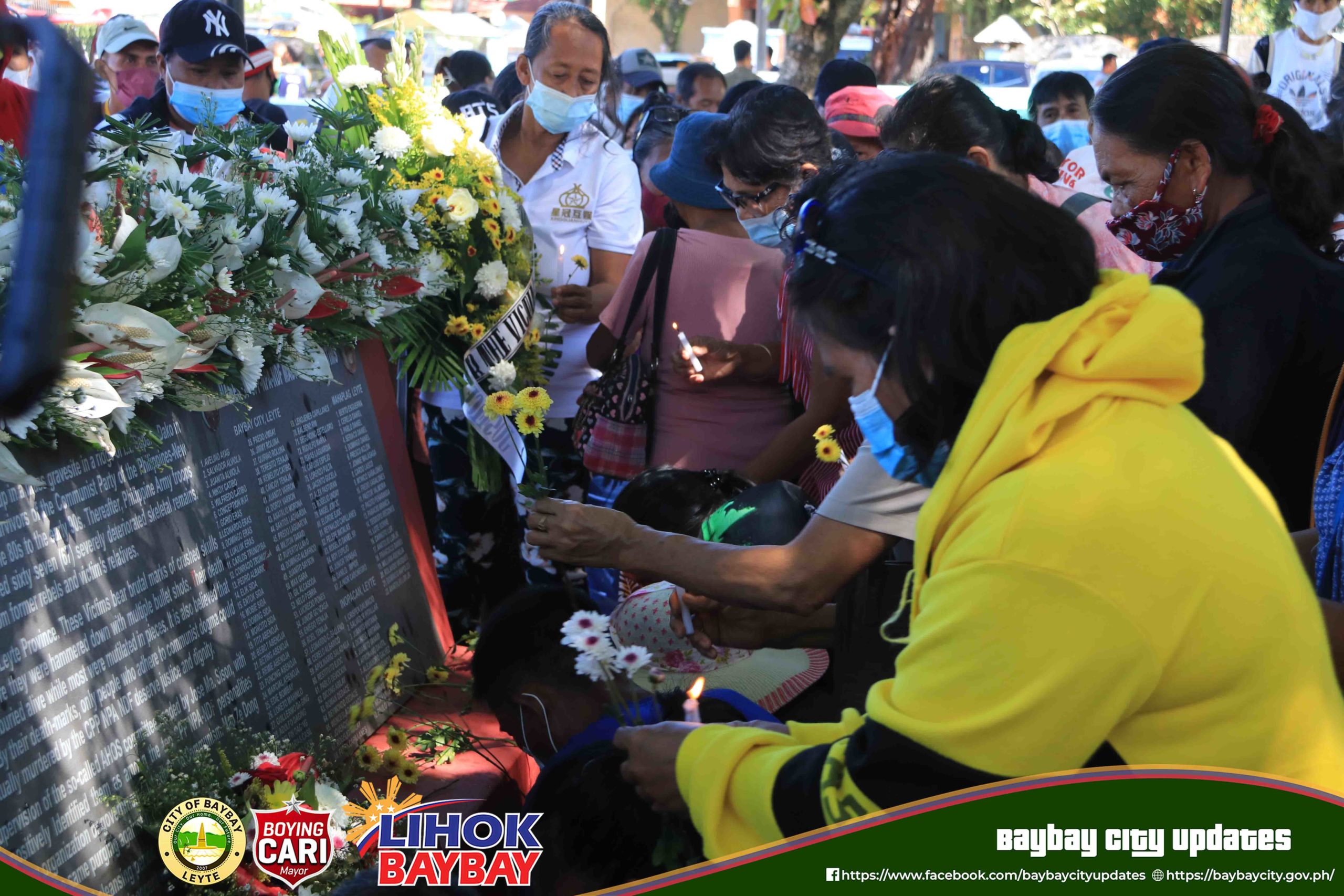 Sa iyang kabahin nagkanayon si 802nd Infantry Brigade Commander COL NOEL A VISTUIR nga paninguhaon nato ga matapos na ang lima ka dekada nga armed conflict sa nasud aron hingpit na nga makab-ot ang kalinaw, kahapsay, ug kalambo-an nga atong gipangandoy alang sa atong umaabot nga mga henerasyon. "Ug dili na gayud kita motugot nga mahitabo pag-usab ang Inopacan Massacre sa bisan asa nga parte sa atong nasud," dugang pa ni COL. VESTUIR.
Samtang, gidasunan ni Mayor Rogelio D. Pua Jr. ang gisulti ni COL VESTUIR kinsa nagkanayon nga, "Ilabi na sa umaabot nga henerasyon, atong ipahinumdom kanila nga dili na kita mo-apil niining maong mga kalihoka aron dili mawala ang kalinaw ngna ato nang natagamtaman karon."
Human sa maong programa, misunod gilayon ang Press Conference nga gipahigayon sa City Auditorium sa Legislative Building 'ning dakbayan.
Angayang masayran nga gisugdan ang 16th Commemoration of the Inopacan Massacre Discovery and Exhumation sa Bike for Peace gikan sa Inopacan Leyte ug sa Holy Mass sa Immaculate Conception Parish Church nga gi-celebrate ni Rev. Fr. Samuel P. Papa, sa Peace Rally nga gisalmutan sa mga pamilya sa biktima sa Inopacan Massacre ug sa mga  ginsakopan sa Integrated Peace and Development Workers Association sa dakbayan sa Baybay, ug sa paghalad og mga bulak ug sa pagdagkot og kandila sa Inopacan Massacre Marker. (Marissa M. Cano, City Information Officer, Baybay City, Leyte)
###