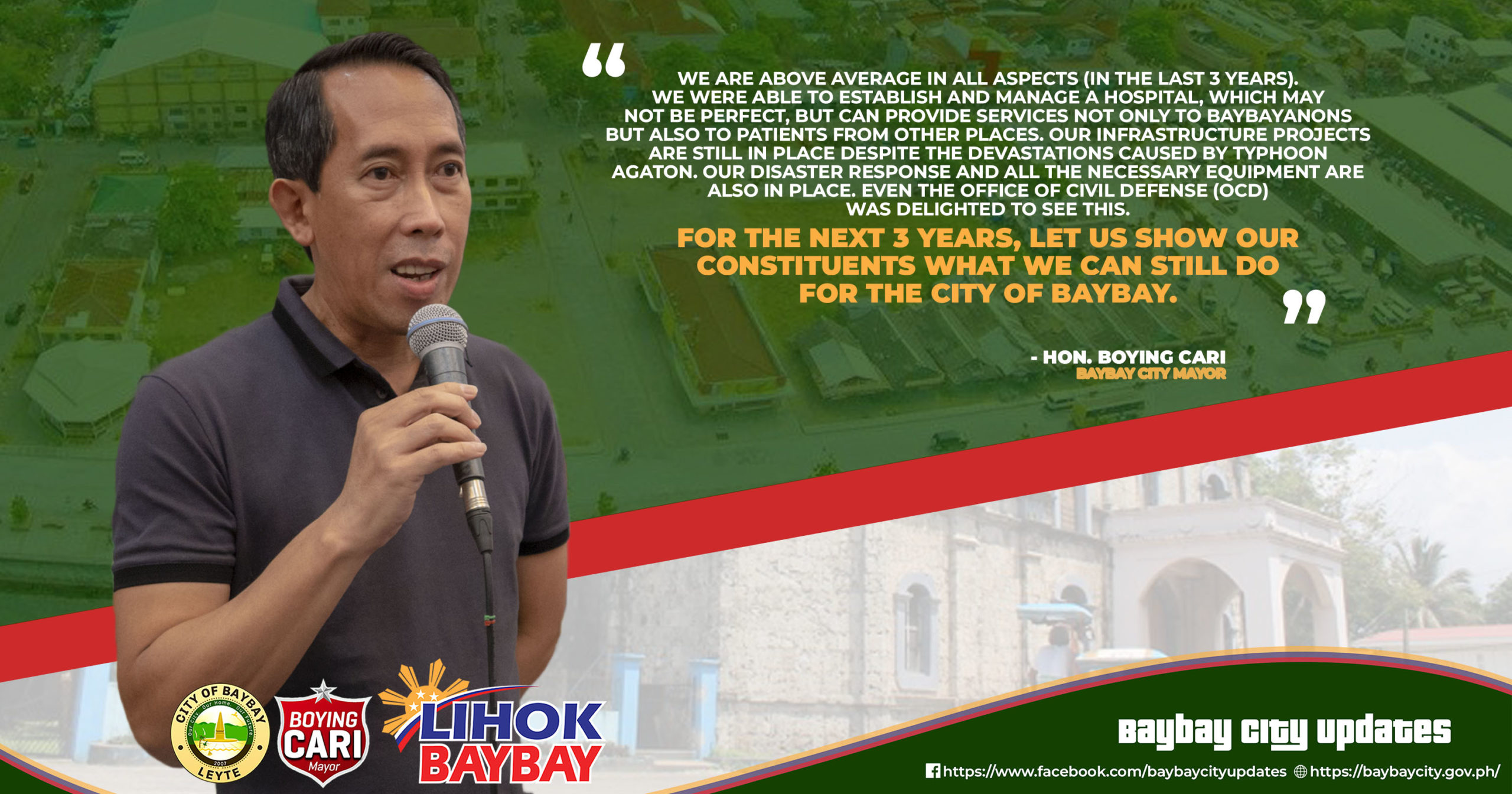 The past three (3) years was not easy for the newly-elected local officials of the City of Baybay and its constituents. The City has just started the construction of major infrastructure projects in the city proper but this was hindered by the pandemic. The construction of the barangay projects continued, even though they were also affected by restrictions due to pandemic. However, most of them were completed and were formally turned over to the barangays.
There was a time when people complained about the strict protocols implemented by the city against COVID-19 but they were silenced by the impact of the said protocols because it took some time for COVID-19 to have an adverse effect in the City of Baybay. This affected the local economy, which was later on opened through the cooperation of the Baybayanons and the entrepreneurs who heeded the call for massive vaccination against COVID-19.
This was not an easy task because the people has been bombarded with fake news against the vaccine. Still the Local Vaccination Operation Center (LVOC) managed to hit its target per category, thru the policies implemented by the City Inter-Agency Task Force on the Emerging Infectious Diseases (City IATF-MEID).
Then came typhoon Odette which damaged a lot of houses and livelihoods.  The City of Baybay, thru the leadership of City Mayor Hon, Jose Carlos L. Cari was in the forefront of all efforts to rise above the impacts of typhoon Odette. Another typhoon came (TS Agaton)which according to Mayor Cari was different from all the other typhoons that hit the city because it rendered two (2) barangays unsafe for human dwelling. Yet, after almost four (4) months, forty (40) families have already been transferred to the relocation site. To date, the construction of the housing units for the displaced families continues.
Both the pandemic and the typhoons affected the city's agriculture and fisheries program but thru the concerted efforts of the concerned offices, farmers and fisherfolks, the produce are now being sold at the Bagsakan Center. This is located across the Baybay City Public Market, where farm products are sold at farm gate prices.
Around 50 upland fishponds were also established and to sustain its production the city also established a Mini Tilapian Hatchery in Sitio Cienda, Barangay Gabas, Baybay City, Leyte.
Truly, the City of Baybay has gone a long way and will go further in fulfilling its vision of Baybay City, a progressive and resilient city, living in a healthy environment. (Marissa M. Cano, City Information Officer, Baybay City, Leyte)
###