"Increase the capacity of the Local Government Unit (LGU) personnel to ensure better performance." Mao kini ang gitataw ni LGOO II Amiel Lyndon Pelias, apprentice sa Local Government Academy (LGA) ug sa Department of the Interior and Local Government (DILG) atol sa gipahigayon nga 2023-2025 Capacity Development Agenda Formulation kagahapon (September 23, 2022).
Gitambungan kini sa mga Department ug Section Heads sa Lokal nga Kagamhanan sa dakbayan sa Baybay kinsa mao ang mas nasayod sa kahimtang sa ilang buhatan ug sa mga serbisyo nga gitanyag sa ilang opisina.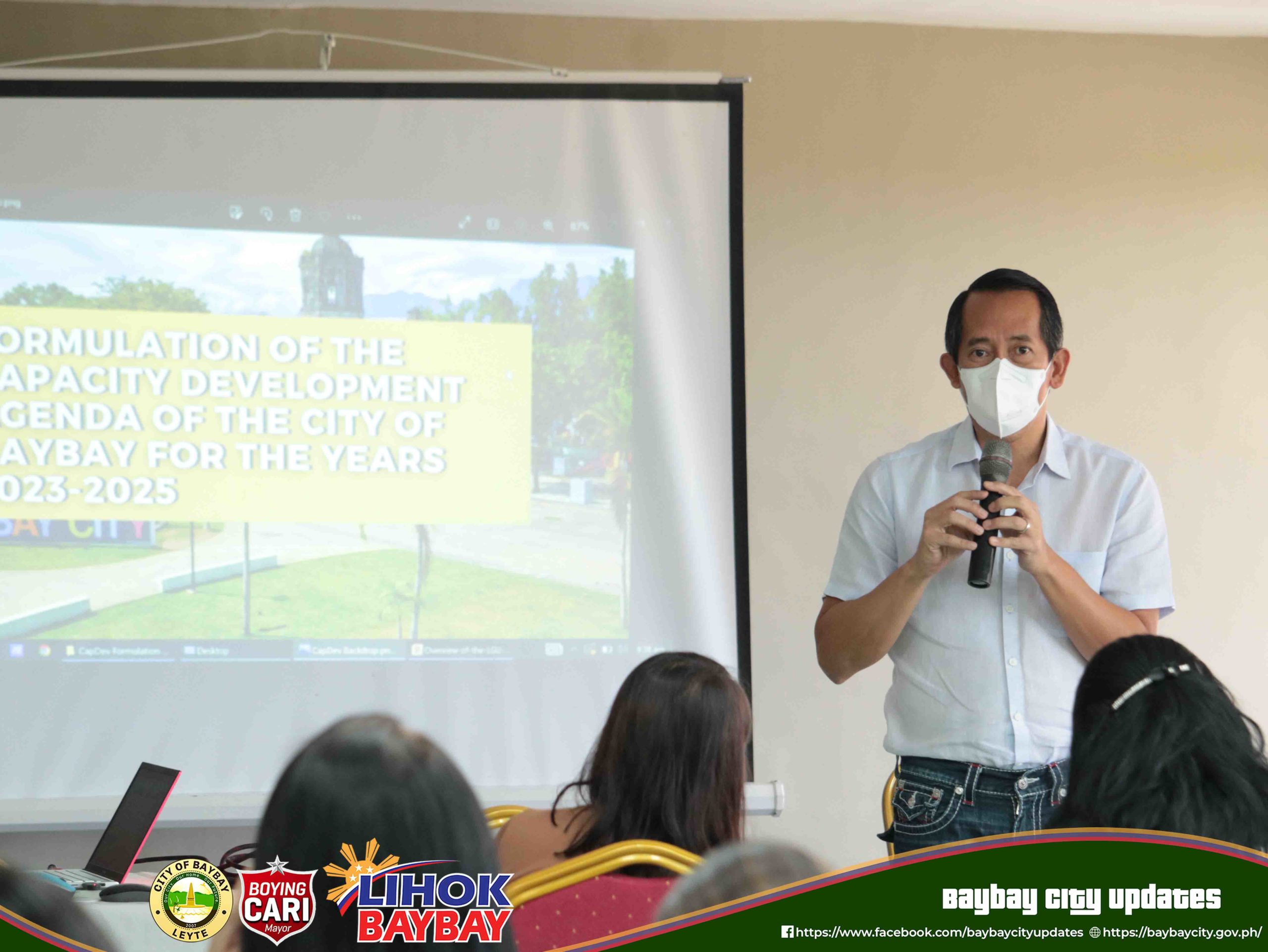 Atol sa iyang pagpakigpunong, gibutyag ni Baybay City Mayor Hon. Jose Carlos L. Cari ang pipila ka mga serbisyo sa dakbayan sa Baybay diin na-obserbahan niya ang kakulangan sa miaging tulo (3) ka tuig.
Nunot niini nagkanayon si Mayor Cari nga kinahanglan nga pahimuslan sa mga Department ug Sections Heads sa Lokal nga Kagamhanan sa dakbayan sa Baybay kining kahigayonan nga makahimo sila og Capacity Development Agenda aron mahimong mas efficient ang delivery of services sa ilang tagsa-tagsa ka mga buhatan.
Iya usab nga gi-awhag ang mga partisipante sa nahigsotang kalihokan nga itandi ang ilang office performance karong tuiga sa ilang office performance sa miaging tuig aron ilang masuta kon unsa man ang angayan nilang buhaton aron mahimong mas efficient ang ilang tagsa-tagsa ka mga buhatan sa paghatag og serbisyo ngadto sa ilang mga kliyente.
Malaomon si Mayor Cari nga pinaagi niining Capacity Development Agenda Formulation nga gipahigayon karong adlawa, mas makita sa mga Baybayanon, sa umaabot nga mga adlaw, ang kalinaw, kahapsay ug kalambo-an sa dakbayan sa Baybay.
Samtang, palaran ang mga Department ug Section Heads sa dakbayan sa Baybay tungod kay naatol sa ilang Capacity Development Agenda Formulation ang pagbisita ni LGA Executive Director Thelma T. Vesina sa ilang mga apprentice nga sila si Mr. Pelias ug Ms. Garcia. (Marissa M. Cano, City Information Officer, Baybay City, Leyte)
###