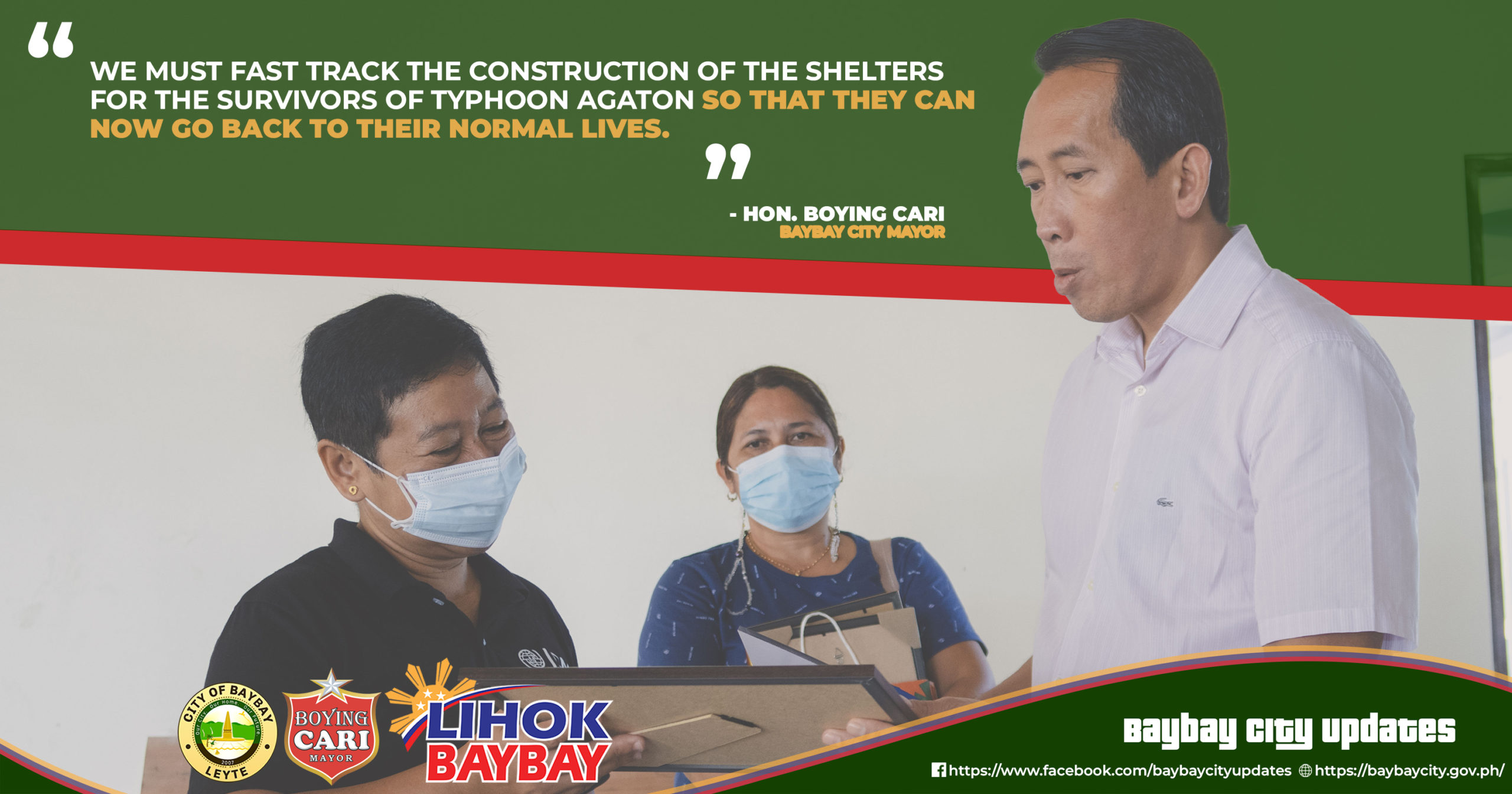 "There is a need for back-filing and additional personnel to fast track the construction of the temporary shelters for 155 survivor families of Barangay Mailhi."  This was revealed by the National Coordination and Camp Manager (CCCM) Officer of the International Organization for Migration (IOM), Ms. Maria Perpetua Bulawan, during her visit to the New Baybay City Hall to update Baybay City Mayor Hon. Jose Carlos L. Cari on the status of the project.
It could be recalled that 254 families in Barangay Mailhi were displaced by Typhoon Agaton after the Mines and Geosciences Bureau (MGB) Geologists declared Barangay Mailhi as unsafe for habitation.  The City of Baybay, thru Mayor Cari and the Sangguniang Panlungsod (SP) headed by Vice Mayor Atty. Ernesto M. Butawan, approved TWENTY THREE MILLION PESOS (P23M) to construct 40 units of permanent housing for the said families. And because of the high cost of each housing unit, the Baybay City LGU, thru the leadership of Mayor Cari, is currently looking for funds or possible donors, for the construction of the additional permanent housing units.
This is where the International Organization for Migration (IOM) came into the picture.  They are now constructing 155 transitional shelter units for the TS Agaton survivors of Barangay Mailhi at Barangay Kambonggan of this city and according to Ms. Bulawan, they can fast track its construction given additional manpower. City Social Welfare and Development Officer Dr. Manuel Icon Donaire also revealed that there is a need for the back-filling of the said area.
CSWDO Donaire also explained that the IOM is only constructing 155 temporary shelters because the remaining 59 surviving families of Barangay Mailhi are now living outside of the Evacuation Center. He added that the City of Baybay leased the land where the said temporary shelters are being constructed, for two (2) years, with the hope that by that time, all the permanent housing units in Barangay Higulo-an will already be completed.
The International Organization for Migration (IOM) is part of the United Nations System as the leading inter-governmental organization promoting since 1951 humane and orderly migration for the benefit of all, with 174 member states and a presence in over 100 countries. IOM has a presence in the Philippines since 1975. Here in the City of Baybay, aside from the construction of transitional shelters, the IOM also implemented Cash-for-Work which benefited the survivors of TS Agaton. (Marissa M. Cano, City Information Officer, Baybay City, Leyte)
###