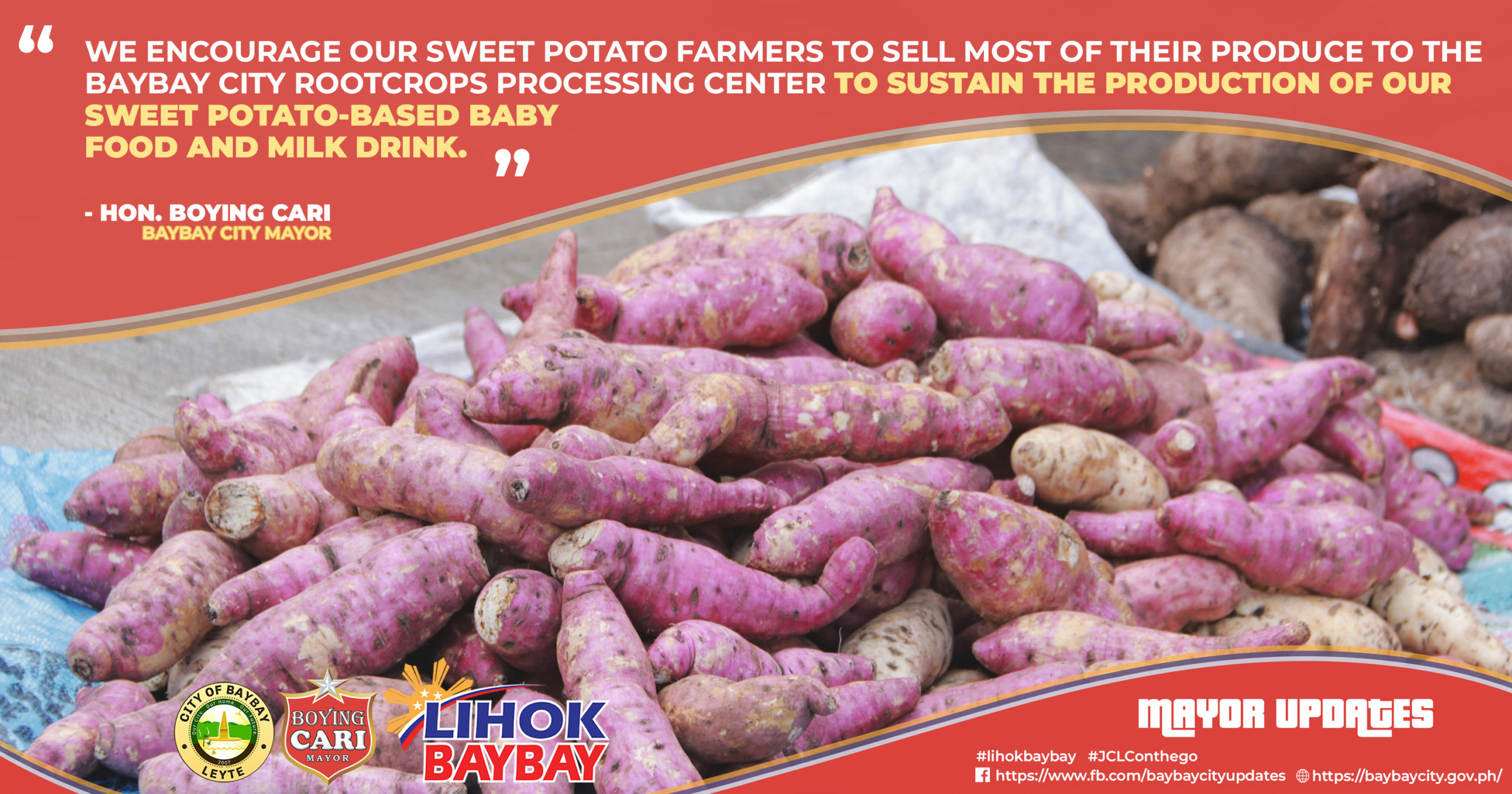 The Baybay City Rootcrops Farmers Association agreed to contribute five hundred pesos (P500.00) each which will be used as capital in buying the produce of their members effective 2023. This was revealed by Rootcrops Production Coordinator Ms. Emylou Bengalan of the City Agriculture Office (CAO) to facilitate the immediate payment of the  farmers' produce.
According to Bengalan, the organization has 56 members from Barangays San Juan, Maslug, Butigan, Ambacan, Bubon, Gacat, Sta. Cruz, Caridad, Hipusngo, and Guadalupe who are working on the total land area of 19 hectares but their actual production area ranges from 500 square meters to 1 1/2 hectares.
She added that the average production per hectare is 16.65 tons and that around 20% of their tubers are sold at the barangay, around 60% either at the organization's stall or at Bagsakan Center (on Wednesdays and Saturdas), and the remaining 20% are sold at the Rootcrops Processing Center located at Barangay Cogon, Baybay City, Leyte.
At the Rootcrops Processing Center, tubers are processed into chips and rootcrops-blended ice cream. Just recently, the Baybay Delights Sweet Potato Baby Food and Milk Drink were launched in Barangay Caridad. According to the City Nutrition Action Officer Nurse Kristine Shayne Abarquez Castos, the said barangay needs the most assistance due to the number of under nourished children and pregnant women in their locality. These products are currently sold at the Pasalubong Center which is located near the processing center.
Ms. Bengalan added that the Baybay City Rootcrops Farmers Association, headed by its President Mr. Vicencio Vallente, meets every first Thursday of the month at the Rootcrops Processing Center to discuss matters related to their production and how the organization may help the City of Baybay, specially with regards to the provision of the needed raw materials now that the city have already launched the Baybay Delights Sweet Potato Baby Food and Milk Drink in support to its nutrition program.
On the other hand, Ms. Bengalan revealed that during their latest meeting, the City Agriculture Office (CAO) committed to pick up the tubers from their respective barangays, according the agreed schedule and volume of available tubers. This is to help the farmers bring their produce to the the Baybay City Rootcrops Processing Center. (Marissa M. Cano, City Information Officer, Baybay City, Leyte)
###