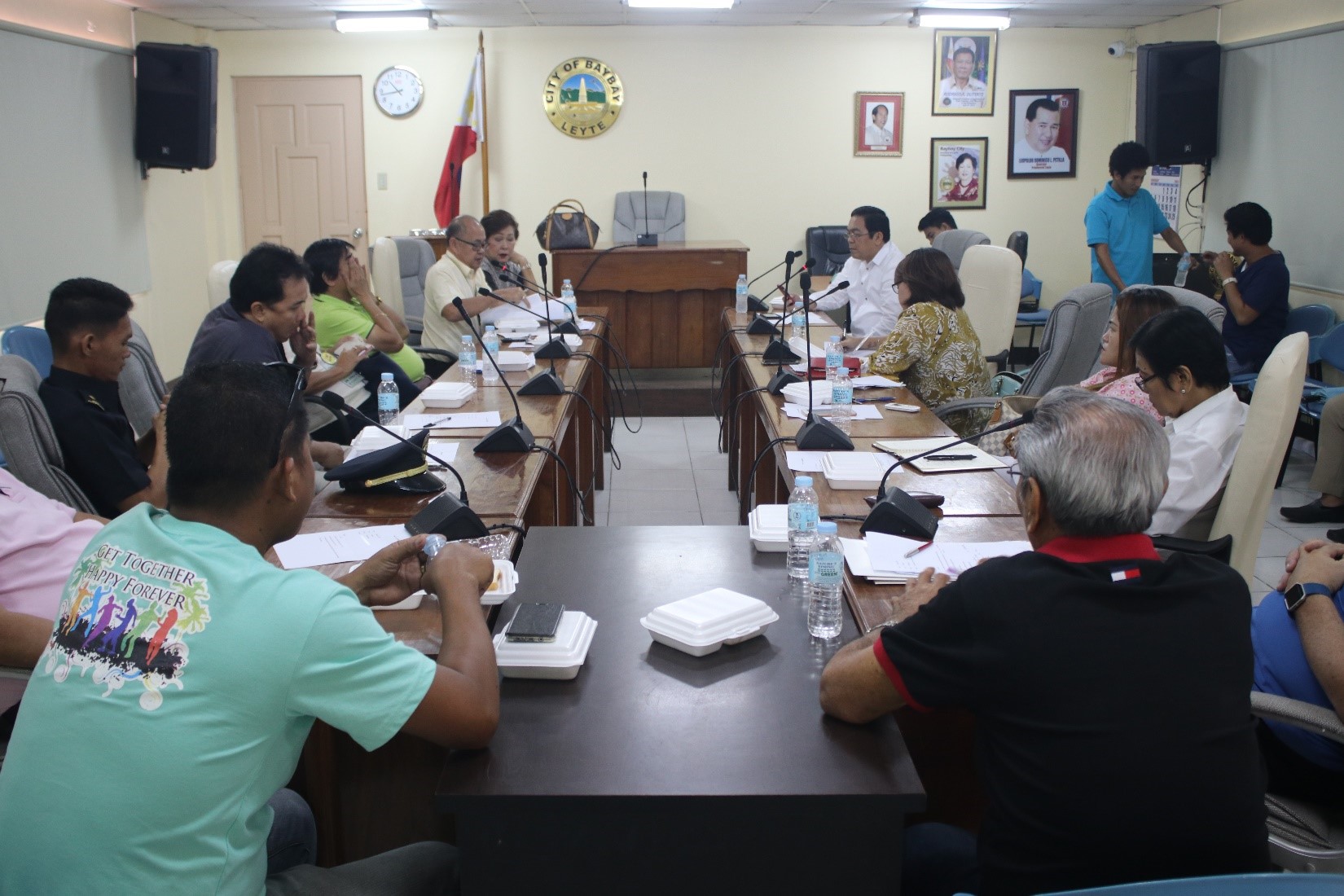 This picture was taken during the organizational meeting of the Baybay City Local Blood Council on February 17, 2018.
Baybay City Local Blood Council: Its humble beginning
The Baybay City Local Blood Council (BCLBC) was organized on February 17, 2018, with Baybay City Mayor Carmen L. Cari as the Honorary Chairman, in response to the need for blood, most especially by the indigent populace of the city.
The following are the officers and members of the Baybay City Local Blood Council (BCLBC).
Honorary Chairman     Hon. Carmen L. Cari – City Mayor
Chairman                      Dr. Norberto P. Oja – City Health Officer
Vice Chairman              SK Juanito V. Quero – Knights of Columbus
Secretary                      Dr. Cecillie Milan – City Health Office
Assistant Secretary      Marissa M. Cano – City Information Office
Treasurer                      Mr. Rochelle O. Batucan – Crystal Lions Club
Auditor                          Hon. Mandy G. Muñez – President, Liga ng mga
Barangay
Members             Hon. Vicente Veloso – City Councilor
Hon. Ernesto M. Butawan – City Councilor
Mr. Deogracias E. Pernitez – City Administrator
Dr. Honorato C. Jervoso Jr. – COH, WLPH
Dr. Carmela R. Tamayo – City Schools Division
Superintendent
Dr. Edgaro E. Tulin – VSU President
Sr. M. Grace Gerong, OSF – Directress, FCIC
Rev. Fr. Stanley Mepico – Parish Priest, Immaculate
Concepcion Parish
P/SUPT RAMIL N. AMODIA – COP, Baybay City Police Station
F/INSP CONCESA B. ASUMBRADO – Chief Fire Marshall, BFP
Mr. Clemel C. Yu – Red Cross Ormoc
Mr. Rolando Gorgornio – EVRMC Blood Center/Blood Bank
Ms. Loreta G. Malabanan – CSWDO
Dr. Josephine O. Zafico – VSU Hospital
Ms. Suzette Arcillas – DOH DMO
Mr. Rosendo Chiong III – CHO VBD Coordinator
Mr. Jose Robles – Baybay City Chamber of Commerce and
Industry
Ms. Porferia B. Polo – BCMDDC Administrator
In an interview with Mayor Cari, she said that she had been longing to establish a Blood Bank in the City of Baybay.  She said that, "As of now, whenever we conduct a bloodletting activity, the Red Cross brings all the blood to be kept in their Blood Bank in Ormoc City.  Then, whenever we need blood for our patients, we still must travel to Ormoc City and sometimes our request is denied because they do not have the blood type that we need. But if our plan to establish a Blood Bank is realized, we will be able to serve not only the Baybayanons but also the patients from the 5th District of Leyte."
However, since the budget requirement for establishing and running a Blood Bank is quite high, the members of the BCLBC agreed to establish a Blood Collecting Unit (BCU) instead of a Blood Bank. As a matter of fact, Dr. Norberto Oja, the BCLBC Chairman, with some members of the council went to the Catarman Provincial Hospital in Catarman, Northern Samar on March 12, 2018 to learn from their good practices.
Ms. Jeane T. Pelayo, the Coordinator of the National Voluntary Blood Services Program of the Catarman Provincial Hospital, discussed about their accomplishments and how they were able to put up their Blood Bank.
It could be recalled that Republic Act No. 7719, also known as the National Blood Services Act of 1994, promotes voluntary blood donation to provide sufficient supply of safe blood and to regulate blood banks. This act aims to inculcate public awareness that blood donation is a humanitarian act.
Thus, one of the major activities of the Baybay City Local Blood Council is the conduct of the Quarterly Bloodletting Activity as follows:
ACTIVITY
DATE
VENUE
POTENTIAL DONORS
1st Quarter Bloodletting Activity
February 21, 2018
Baybay City Gym
Baybay City LGU Employees

Knights of Columbus (full force)

Fitness Groups (BYCA, BCR and Scrambled Legs)

Poblacion Barangays

Walk-in Clients

2nd Quarter Bloodletting Activity
May 2018
Baybay City Gym
Academe (FCIC, Acedilla, and Palermo)

Baybay City Division

South District Barangays

Walk-in Clients

3rd Quarter Bloodletting Activity
August
VSU Convention Hall
VSU faculty, staff and students

Business Group

North District Barangays

Walk-in Clients

4th Quarter Bloodletting Activity
November

(1st week)

Baybay City Gym
Uniformed Personnel (PNP, PA, BFP, PCG, etc.)

Walk-in Clients
In relation to this, the Baybay City Local Blood Council calls on the Baybayanons and other interested persons to awaken the spirit of volunteerism and to donate blood to save life.  (Marissa Miguel Cano, City Information Officer III)
###