Gipanghingusgan karon sa Local Vaccination Operation Center (LVOC) sa dakbayan sa Baybay ang pagpamakuna sa mga senior citizens 'ning dakbayan. Kini aron kapanalipdan sila batok sa virus ug aron usab matuman ang mando ni President Ferdinand Marcos Jr. nga kinahanglan nga bakunado na ang 90% sa mga senior citizens sa matag lugar sa Pilipinas sa dili pa matapos ang  unang 100 ka adlaw sa iyang pangatungdanan.
Mao kini ang gibutyag ni Medical Officer V, Dr. Jerome Profetana atol sa labing ulahing panagtigom sa City Inter-Agency Task Force on the Management of Emerging INfectious Diseases (City IATF-MEID) 'ning dakbayan.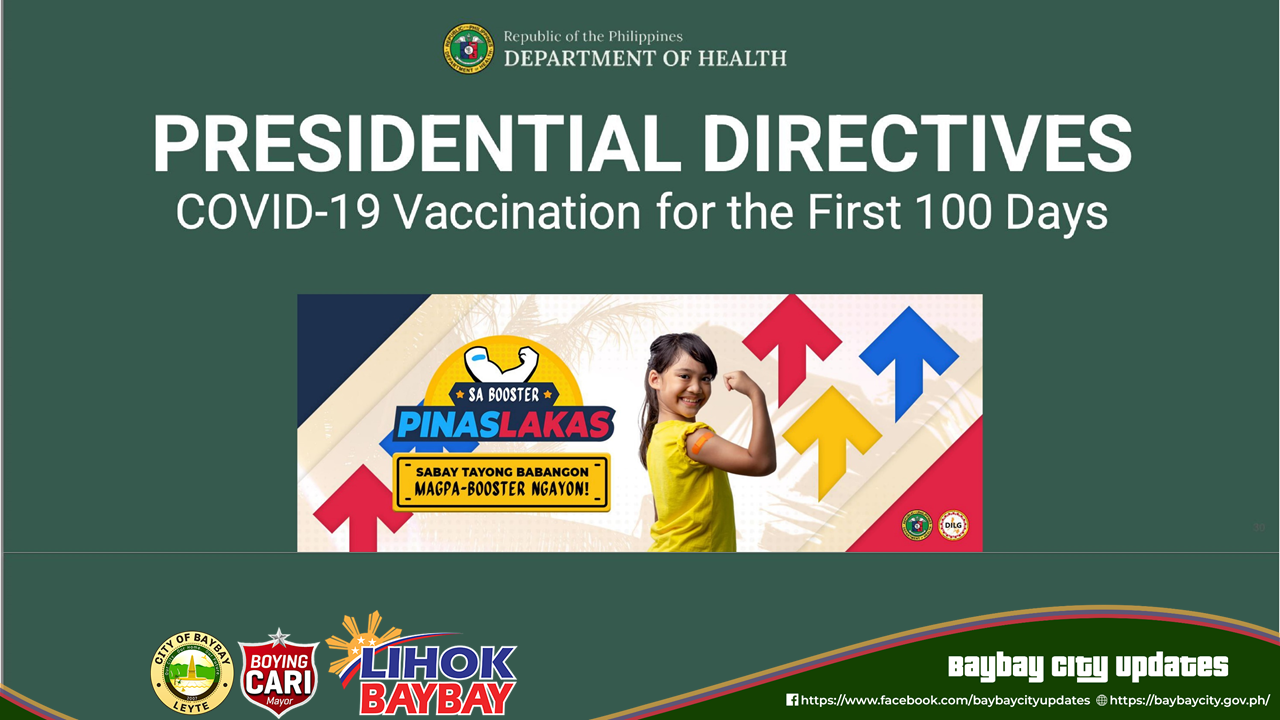 Atol sa maong panagtigom, gibutyag ni Dr. Profetana nga na-identify na nila ang mga senior citizens nga wala pa nagpabakunapinaagi s panabang sa mga Barangay Health Workers ug sa mga midwives nga naka-assign sa mga Barangay Health Stations (BHS) 'ning dakbayan.
Nunot niini, gi-awhag ni Baybay City Mayor Hon, Jose Carlos L. Cari ang mga Punong Barangay ug ang uban pang mga barangay officials nga motabang sa pag-awhag sa ilang mga ginsakupan nga magpabakuna na alang ra usab sa ilang kabulahanan.
Nasayran nga naggisge na og kampanya ngadto sa mga kabarangayan ang mga nurses nga naka-deploy sa mga kabarangayan ubos sa Department of Health Human Resources for Health (DOH-HRH) kabahin sa mga bentaha sa pagpabakuna. "Gani ang uban nga mosugot na sa pagpabakuna, ila man bakunahan dayon," dugang pa ni Dr. Profetana.
Angayang masayran nga sa labing ulahing COVID-19 Update nga gihatag ni Dr. Profetana alang sa mga ginsakupan sa City IATF-MEID, otsenta y dos porsiyento (82%) pa gihapon sa mga senior citizens 'ning dakbayan ang nabakunahan na. Busa, gibutyag ni Dr. Profetana nga posibleng ipahigayon na nila ang house-to-house vaccination sa mga panimalay sa nahisgotang mga senior citizens karong bulan sa Septyembre.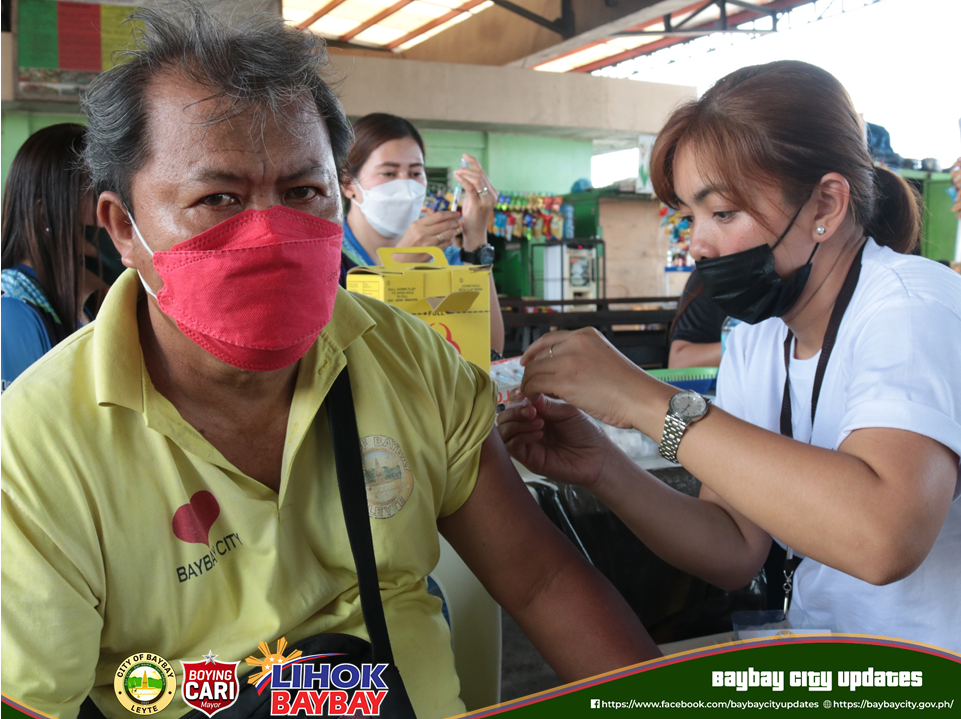 Sa iyang kabahin nagkanayon si City Health Officer II Dr. Norberto P. Oja nga mas dako nga hagit sa mga LVOC ang mando ni Presidente Marcos nga kinahanglan nga nakapa-booster dose na ang labing menos singkuwenta porsiyento (50%) sa mga vaccinated population sa usa ka lugar sa dili pa matapos ang unang 100 ka adlaw sa iyang katungdanan.
Busa, gibutyag ni Dr. Oja nga atol sa panagtigom sa mga City and Municipal Health Officers sa lalawigan sa Leyte, nagka-uyon sila nga  limitahan ang paglakaw-lakaw sa mga katawhan nga walay booster dose. Kini nagpasabot nga dili na makasulod sa mga government offices, mga establisimiyento ug uban pang mga sarado nga mga lugar ang mga katawhan nga wala pay booster dose. Hinuon matud pa niya nga  magkinahanglan pa kini og usa ka Executive Order sa dili pa hingpit nga ikapatuman.
Nunot niini, nagkanayon si Mayor Cari nga kinahanglan nga mas palapdan pa sa LVOC, uban sa City Administrator's Office ug sa City Information Office, ang kampanya niini kabahin sa importansiya sa booster shot. Kini aron kalikayan ang pagpatuman og bag-ong Executive Order nga mohatag og limitasyon sa mga Baybayanon nga wala pay booster shot.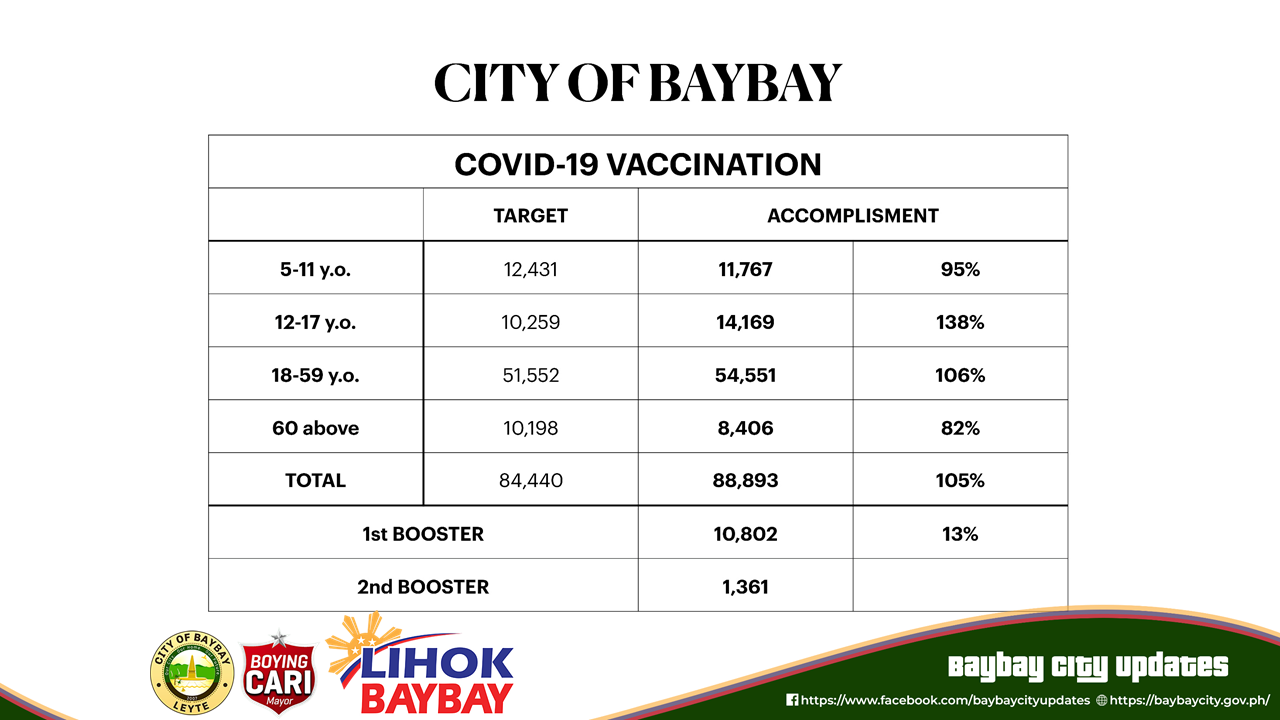 Si City Local Government Operations Officer Ms. Juvy Pedrera, sa iyang kabahin, nagkanayon nga dugay 'nang giluwatan sa Department of the Interior and Local Government (DILG) ang usa ka advisory nga nagmando sa mga Punong Barangay nga magsumite ngadto sa buhatan sa DILG sa ilang monthly report kabahin sa limitasyon sa paglakaw-lakaw sa mga residente sa barangay nga wala pay bakuna. (Marissa M. Cano, City Information Officer, Baybay City, Leyte)
###