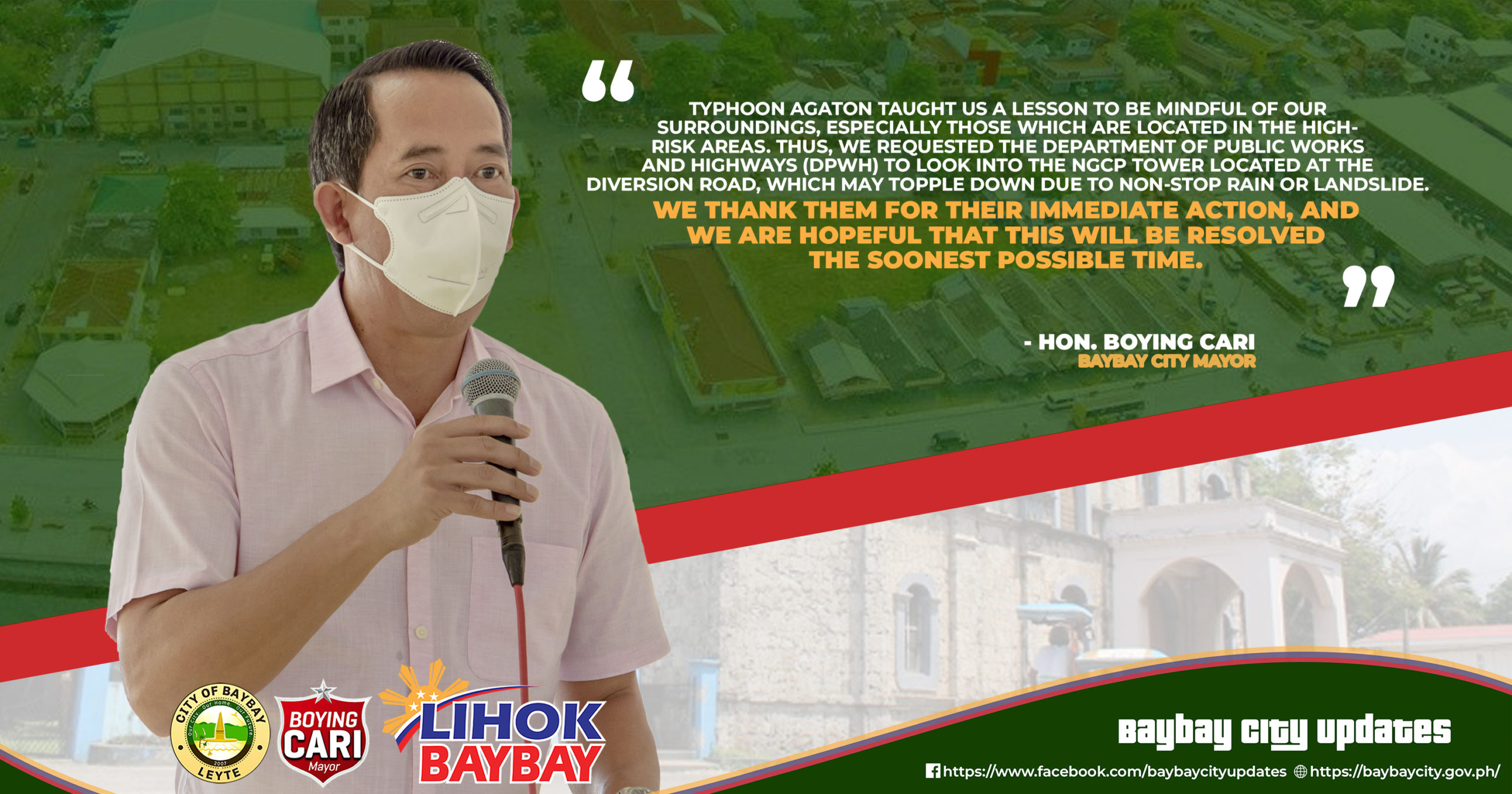 The constituents of the City of Baybay and road users from other places had raised concerns about the National Grid Corporation Philippines (NGCP) Tower which poses a threat to the road users due to the landslides observed at the Diversion Road, near the new Baybay City Hall. This is because they have observed that landslides occur in this part of the Diversion Road after heavy rains.
Thus, Baybay City Mayor Hon. Jose Carlos L. Cari met today (September 1, 2022) with Engr. I Marchie Rafales, Atty III Atty. Joy B. Templonuevo, and Legal Assistant III Atty. Bliezel D. Teodosio from the Right of Way Acquisition (ROWA) and the Legal Division and Assistant Chief Rowena Purificacion of the Planning and Design Division of the Department of Public Works and Highways (DPWH) Region 8 to discuss this concern. This was held at the VIP Lounge of the City of Baybay located at the Baybay City Gym.
They said that based on their assessment, there is a need to transfer the NGCP Tower and this will entail road right of way for the installation of the temporary Emergency Restoration System (ERS) Tower. Hence, there is a need to coordinate with the affected owners because the installation of the new NGCP tower will take at least two (2) years due to the materials needed not being locally available and NGCP will have to import them from other countries.
The DPWH representatives added that they have already identified the concerned land owners. DPWH and the NGCP personnel need to convince them that the road right of way is a necessity for the installation of the temporary ERS and that this will be removed when the new NGCP Tower is installed.  To this, Vice Mayor Atty. Ernesto M. Butawan suggested that they lease the affected lands until the temporary ERS are removed.
Finally, DPWH said that they will request the NGCP to have the next meeting in Baybay City to further discuss these concerns.
The meeting was also attended by City Planning and Development Officer Engr. Patrick Postrero, City Engr. Ranulfo Tagolgol, City Disaster Risk Reduction, and Management Officer Engr. Rhyse Austero, and Surveyor Engr. Aris Milloza. (Marissa M. Cano, City Information Officer, Baybay City, Leyte)
###