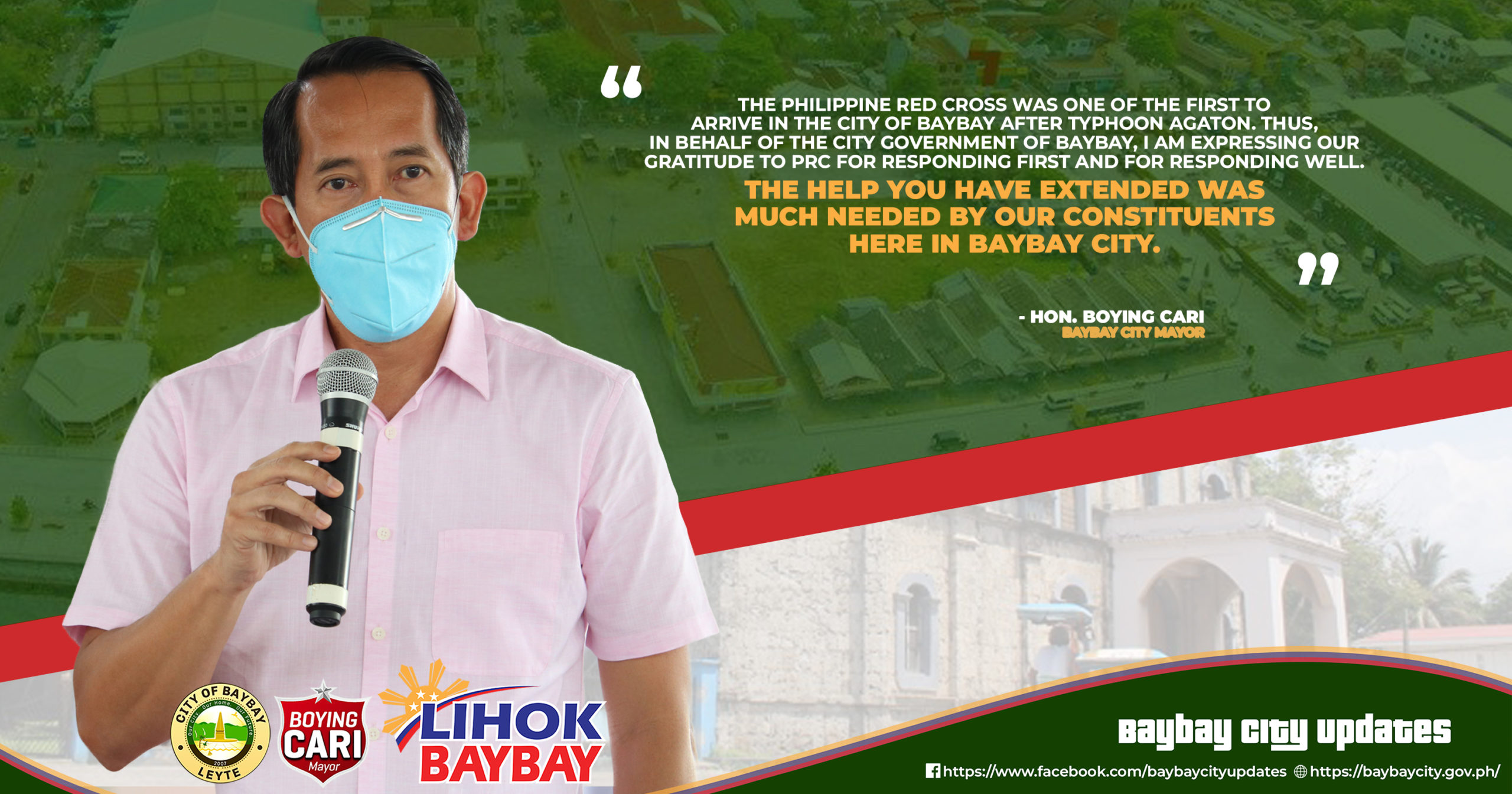 Almost five hundred survivors of Typhoon Agaton from Barangays Maypatag, Kantagnos, and Mailhi received financial assistance just recently from the International Federation of Red Cross, thru Philippine Red Cross (PRC) Chairman and Chief Executive Officer Senator Richard "Dick" Gordon.
During his message Baybay City Mayor Hon. Joe Carlos L. Cari thanked the Philippine Red Cross (PRC) for being one of the first to arrive immediately after typhoon Agaton struck the city which resulted to landslides, damage of properties and loss of lives. He said that as early as April 11, 2022 their paramedics, doctors, and service vehicles were already in the City of Baybay to provide assistance to the fullest.
Mayor Cari said that, "In behalf of the city government of Baybay, I am expressing our gratitude to PRC for responding first and for responding well. The help you have extended was much needed by our constituents here in Baybay City."
He also thanked the PRC for the financial assistance that they provided to around five hundred residents of the City of Baybay. "What you are extending will mean so much and rest assured that with the help of the Sangguniang Panlungsod and the City Social Welfare and Development Office, this will go a long way," added Mayor Cari.
It could be recalled that Typhoon Agaton displaced these families rendering either their houses or their barangay unsafe for inhabitants. The recipients of the cash assistance from PRC are still living in the Evacuations Centers (schools) and are striving to live a normal life.
In relation to this, Mayor Cari thanked the Management of the Department of Education Baybay City Division, headed by Schools Division Superintendent Dr. Carmelino P. Bernadas for continuously allowing them to occupy the school buildings despite the start of the limited face-to-face classes.
Baybay City's City Social Welfare and Development Officer Dr. Manuel Icon Donaire, on the other hand, thank all the donors who continuously help them get through this difficult times. However, he said that it would be best for the surviving families if the donors will give their donations in cash, instead of in kind, so that they may use it to purchase what their family really need. (Marissa M. Cano, City Information Officer, Baybay City, Leyte)
###